Speaking Truth To Power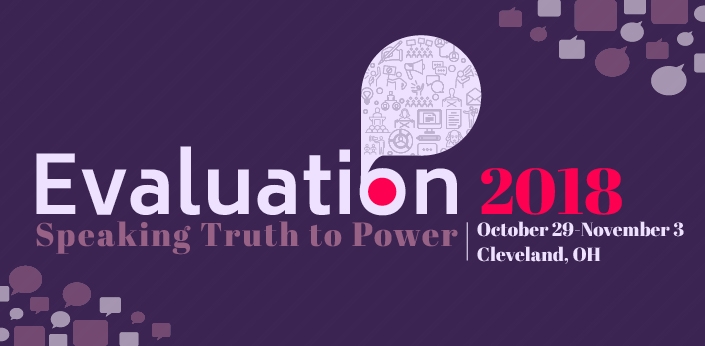 Building the evaluation field at the AEA conference
Our team is joining evaluation colleagues from across the globe in Cleveland this month for the 2018 American Evaluation Association Conference: Speaking Truth to Power.
We're excited to be presenting on a wide range of topics, including:
Being a woman-owned evaluation firm

Best practices for conducting virtual focus groups

Using an anthropological approach for addressing power and truth in evaluation practices

Best practices for debriefing with clients
Learn more about each of our sessions below, and follow us on Twitter to get our insights from the conference. If you are attending the conference, please stop by and say hi! We'd love to meet you.
Wednesday 4:30 – 5:30pm
Game Changers: Lessons from Small Evaluation Firms
Our CEO Elena Harman will join two other leaders of women-owned evaluation firms, Komani Marjorie Lundquist, of Via Evaluation and Leah Goldstein Moses, of The Improve Group to share and discuss their companies' game-changing moments.
The session includes practical tips, specific tools, and new ideas on how to improve the systems and quality of evaluation consulting businesses. It will be facilitated by Kirk Knestis, Senior Consultant, at Inciter.
Thursday 2:45 - 3:30pm
Through the Screen: Tips for Virtual Facilitation in Evaluation
Our evaluators Laura Sundstrom and Stacie Hanson will share their lessons learned about what works and what doesn't for facilitating virtual focus groups and meetings. This session includes tips for promoting engagement, pros and cons of technology options, and logistics that need to be considered when preparing for virtual facilitation.
Thursday 3:45 – 4:45pm
How We Speak Truth Matters: Examining Power, Knowledge, and Evaluation Discourses Through an Anthropological Lens
Our evaluator Aisha Rios will join this panel to talk about the power dynamics within evaluation (spanning domains such as methods selection, data sources, and stakeholder engagement), and how they are shaped by socio-political and economic factors dictating how and when evaluations are funded, what is evaluated, perceptions of scientific rigor, and acceptance of evaluation results. The discussion will go beyond the surface content of "speaking truth to power," offering contributions to how evaluation practice as discourse can creatively challenge existing forms of power.
Other panelists include: Lavinia Nicolae, Evaluation Fellow, Centers for Disease Control and Prevention, NCZEID; Jennifer Wies, Professor, Ball State University; Liz Lilliott, PhD, Program Evaluator, Pacific Institute for Research and Evaluation; Rosalyn Bell, MPA, Public Health Advisor, CDC; and Eve Pinsker, Assistant Professor, University of Illinois at Chicago, School of Public Health.
Friday 5:45 – 6:45pm
What Happens Afterwards? Ways to Debrief with Clients
Our CEO Elena Harman will join this panel to share best practices for understanding the impact of individual projects, monitoring and increasing work quality, and cultivating ongoing relationships with clients as a company and as individuals.



Other panelists include: Gail Vallance Barrington, PhD, FCMC, CE, President, Barrington Research Group, Inc.; Ann Webb Price, President, Community Evaluation Solutions, Inc.; Janet Marie Smith, Principal, Consultant, Edscape Consulting, LLC, Colleen F Manning, Director of Research, Goodman Research Group, Inc.; Emily Anne French, Research Associate, Community Evaluation Solutions, Inc.